Hi all and thanks for visiting.
Today we look at the Sigma 10-20mm f3.5 EX DC HSM.  This is one of the ultra-wide angle lenses I have had the pleasure of using in the past and I must admit, it is highly underrated and in my opinion, one of the best UWA lenses out there for a crop sensor body.  It is available for Canon, Nikon, four thirds users, Sony and Pentax.  Sony and Pentax users however don't have the focussing benefit that HSM gives.
It is also one of only a few UWA lense available on the market that has a fixed aperture.  Designed for the APS-C sensor cameras it is really a must for anybody that enjoys landscape photography.  Although not a general purpose lens and certainly not a lens to be used for portraiture, it can be used very creatively in both these instances.  Choosing what lens you want to buy is vital, as mentioned above you won't be shooting weddings with this lens.
Designed for the crop sensor cameras this lens is equivalent to a 16-32 on a full frame camera.  Although f3.5 is not particularly fast, it does help when shooting creative and wide to limit the depth of field.
Build of the lens
The first thing you notice when opening your newly bought lens, is the build quality.  It is really good with the trademark Sigma matt finish and clear markings.  The focus and zoom rings are nicely ribbed making it easy to use and the amount of turn is not excessive.  Note however that it does turn in the opposite direction to that of Canon.
It comes with a petal shape hood which clicks into place and provides good protection. One of the best things is the centre pinch lens cap.  I love these as opposed to those lens where you have to try and squeeze your fingers in on the side to release the cap, not to mention trying to get it back on.
It does have a rather large front end requiring a 82mm filter.  I would however not recommend using a circular polarising filter on these ultra wide lens due to the uneven results.  Not a lens fault at all though.
The focus is really quick and quiet with the HSM (Hypersonic motor). I found the 10-20 occasionally battles to focus in really dark environments, but when using for landscape learning the hyperfocal distance of any lens is important.  This makes the few times I battled to get autofocus of no importance to me personally.
The bayonet is metal and when mounted is nicely weighted.  Compared to its rivals it is a little heavier but you will most likely be using it mounted on a tripod most of the time any way.
Image Quality
OK, admit it. How many of you scrolled down to this part first and didn't even read the first stuff…
When it comes to image quality this lens is difficult to fault.  Lens flare is very well controlled and with the petal hood in place it really handles shooting into the light well.  Sharpness is very good.  At f3.5 the centre is nice and sharp with the edges being a little soft.  Stopping down to around f5.6 and beyond it really comes to its own providing some really good, sharp images.  From f8 the increase in sharpness is not noticeable.
Saturation and contrast is very good with some CA (chromatic aberration) visible in the corners at all focal lengths.  This can however be corrected relatively easy in post processing.
At f3.5 this lens can be used for some really nice wide star trail photography and landscape photography takes on new meaning.  Swopping out your kit lens for this one and heading out to do some landscape work is pure bliss.  It opens up a new world.
As with all UWA lenses, there is some distortion that is once again it is pretty easy to correct in post processing.
The image quality this lens delivers is really good.  At a price tag of around R 7600.00 (price as it was today) it is still easier on the pocket than the brand names and delivers the same IQ and has the benefit of the constant aperture to boot.
In this lens category it is one of the fastest lenses available for crop sensor users.
All in all I highly recommend this lens if you are just getting into wide angle lenses and landscape photography.  It checks so many boxes that it will keep you happy for a long time.  It is well built, delivers very good IQ and doesn't break the bank, which means your wife won't make you sleep in the car.  The kids will love the funny effects it has on their faces when you take close up wide angle shots and just maybe you get that once in lifetime shot that you would have missed otherwise.
Now go on, get yourself one.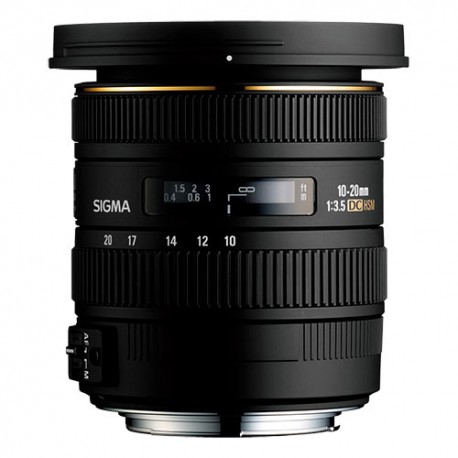 Image from www.sigmaphoto.co.za
---
---
You might also like
---